NEWS
KNR 2019: BE PART OF THE 8TH YEAR OF KOŠICE NIGHT RUN
Posted by: Administrator, 27.08.2019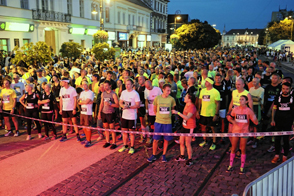 Night runners will be on track on 6th of September.
The center of Košice will be transformed into a large running track in ten days. The perfect atmosphere will be created again by the athletes along the track and in the finish. Košice Night Run has a fixed place on the running map and is not popular only with the East-born athletes. Every year, runners from all over Slovakia and abroad apply for the run. On the 10 km (10K) track, professionals and recreational runners will meet on 6 September. Pupils of Košice elementary schools will also be at the start and run one circuit (5K).
A running event that you should not miss
The part of Košice Night Run 2019 will be music stages with DJs, live bands, a per-fectly lit track and an attractive program on the main stage. The organizers leave nothing by chance and prepare thoroughly. Together with the Mayor of Košice, Jaroslav Polaček, they completed the control day of the track on 21 August 2019.
"The first thing is safety, so the places we consider problematic we are checking with a director of the race. We will remove obstacles where we can and would like to do everything to make all runners feel good. We are glad that this event has a tradition and I believe that all participants will leave again with a smile,"
said Polaček for Košice Online.
Košice Night Run has a long tradition and irreplaceable place in a series of popular sports events.
"We are working 100% to confirm that Košice Night Run is the most prestigious night run in Slovakia,"
concluded the main organizer Marek Petráš from Radio Košice. In addition to a unique experience or great performance, runners this year will also be awarded by a medal in the original design - regardless of the result.
The first 2000 runners registered will receive the T-shirt, also in the new design for 2019. If you haven't registered yet, hurry up as the number of runners is limited. More than a thousand runners have been registered so far. More information is available at
www.nightrun.sk


---------